The "Follow Up" feature allows you to set reminders to contact property owners. Please note that the button will only display if PropertyShark has researched ownership information for the property.

How to Create a Follow-Up
Go to the "Contacts" tab of the Property Report.
Ensure that you're viewing the "Real Owners" section.
Click the "Follow Up" button on the right side.
Set a follow up date. You can also add a note, too, if you'd like.
Click "Save".
The button will change to "Following",confirming that the follow up was created.

How to Access & Manage Follow-Ups
Once you have created follow-ups, they will display on the home page when you sign in.

Simply click on any of the buttons – Overdue, Today, Next 10 Days or Future – to access any follow-ups in each category. Any past follow-ups will be considered overdue. You can also access your follow-ups by performing the following:
Click your name or the silhouette in the upper-right corner.
Select "Follow-ups".
From here, you can easily view the contact information and the associated property of any of the follow-ups you have.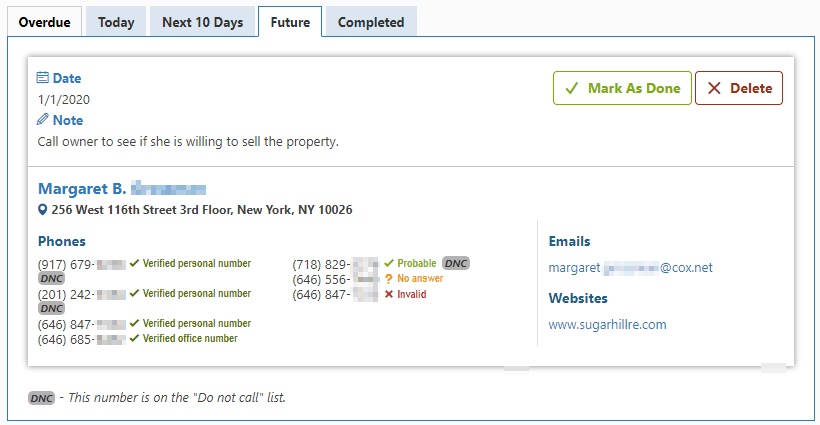 Removing/Marking a Follow-Up as Complete
All of your follow-ups will have two buttons: "Delete" and "Mark As Done".
Delete: Removes the follow-up entirely. To recover a deleted follow-up, open the report and create the follow-up again.
Mark As Done: Moves the follow-up from its current tab to the "Completed" tab.